28 Reasons Why You Should Distribute a Press Release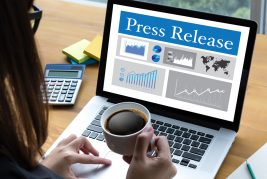 Do you have a special event or occasion, or a unique story to share about your company? If so, you should be sharing it in a press release.
Press releases are an excellent way to keep your company in the spotlight. They allow you to share with your allies, employees, customers, and prospects what you are doing in your industry.
When you distribute a press release to the masses through a service like PR Newswire or PR Web, you increase your chances of getting picked up by hundreds of major media outlets including magazines, newspapers, top media websites and broadcast TV affiliates. Press releases can help open the door to inquiring minds – people who want to learn more about what you do.
Whenever you distribute a press release you should also post it on your company website and email it to your lists.
To give you some ideas, here's a short list of possible reasons for you to write and distribute a press release right now.
New products that solve unique problems
Business start-up
Partnerships, especially with well-known entities
Strategic alliances with other companies in same industry
New or innovative business strategy
Restructuring your company
Taking your company public
Overcoming a major challenge that's known to the public
Important executive retiring or resigning
Comment from company executives regarding business or economic trends
Announcement of research results
Major anniversary
Major new client acquisition
Company revenue, sales growth
Company name change
Winning of a major award or receiving national recognition
Company presenting an award
Company sponsoring an event
Receiving sponsorship for a company event
Receiving industry accreditation or certification
Holding a free learning event such as a seminar or workshop
Issuing a statement popular subject that positions your company as a leader
Important, free information available to your target market
Company speaker's bureau
Community work or philanthropic support
Major company milestone such as a 25th anniversary or hiring of 1,000th employee
New board of directors
New website that offers more value and better functionality for visitors
A press release is a very cost-effective way to reach more of your market while positioning your company as a leader in your industry. The time to start reaching more customers and clients is now.
[sc name="Monica No-PR-Firm Bio"]