Why Publicity Is Important – Ep #1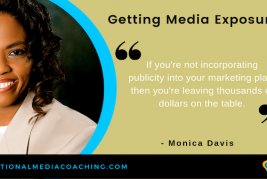 Do you know why publicity is important for your business? Publicity is one of the most cost-effective ways to get exposure and building credibility and influence for your business and your professional career.
If you're not incorporating publicity into your marketing plan, you're leaving tens of thousands of dollars on the table and you're also missing out on the opportunity to build extraordinary relationships with the media who in turn can make good things happen for your business faster than you can on your own.
Being in the media helps you build trust and credibility faster than any other marketing method. You'll learn the importance of incorporating publicity in your marketing and why it's good for your business.
Contact us to learn more about how you can easily start getting publicity for your business without spending thousands of dollars on a PR firm or publicist, and save time with a step-by-step roadmap to success.