Step Up Your Business Game: Become an Author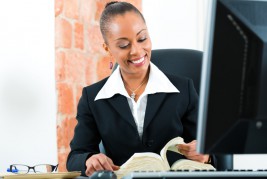 Entrepreneurs never stop looking for ways to help their businesses and build credibility. One such way is to become an author. A book doesn't have to be huge with hundreds of pages. People will even buy a short, fifty page eBook if it is full of worthwhile, useful content.
How a book can help your business?
A book shows that the author is credible in his area. It makes clients feel more confident in doing business with the company if the person in charge has demonstrated expertise. A published book can be the pathway to increased exposure in the media, and it can lead to bookings for speaking gigs.
One good use for a book is as a promotional gift to new clients. There are hardly any immediate expenses with an e-book. An e-book can be delivered instantly as a download from a website or an electronic file sent by email. The download process can be leveraged to collect contact information for the potential customer.
Achieve Perfection
If you have fantastic ideas for a book but your writing is in dire need of some assistance, there are plenty of options for collaboration, including writing with another author, making use of the services of an editor and using ghostwriters. Hiring a writer to take your ideas and place them into manuscript form is not much different than hiring a copywriter for advertising, or a public relations person to compose your press releases. It's the content you generate that counts.
Should you self-publish?
For little cost, an eBook can be created easily through word processing.
You can use a publish-on-demand company (such as Iuniverse, AuthorHouse or Xlibris) to produce a hard copy if you like. There are reasonable costs, and you can print as many or as few as you'd like. Lulu.com won't charge upfront fees at all, but you must have everything ready to go and formatted, including the cover art. You can print out a single copy, or many.
If you are printing more than 500 copies, the best deal is to use offset printing, but that leaves all the formatting, design and artwork to you.
If you want your book to be on bookstore shelves, then you should probably not self-publish, but instead, look for a mainstream publisher.
Mainstream Commercial Publishers
You'll get more recognition if you can get your book published by a mainstream publisher, rather than self-publishing it. Publishers differ regarding the kinds of books they take on. There are those that look for nonfiction, while others want cookbooks or books about business. Lots of online and printed resources exist to let you know what the various publishers are seeking, along with the editor's name and contact info.
Mainstream publishers will give you an advance, which is a fee for letting them publish what you've written; they will edit, format, do cover art, and market the book. An advance can be a couple of thousand dollars or a few hundred thousand dollars. When your book is accepted, you do not have to refund the advance (unless the contract says so, but this is very uncommon). Publishers have the infrastructure and personnel to distribute your book to bookstores. Indie or chain bookstores don't usually stock self-published books.
A negative feature of mainstream publishing is that it may take a year or more to get the finished product ready for market. You're also going to lose some control over what's going on. Publishers generally accept input from the author for cover design, date of release, price, and marketing, but they have the last word concerning these elements.
Prepare
Understand what agents and publishers want. A majority of publishers don't take manuscripts that are unsolicited, so don't bother to send yours. Send a query letter to the right editor at the publisher, describing your book and discussing your qualifications for writing it.
Good News
You will be glad to know that in nonfiction, publishers can offer a contract even before the book is finished. All you need is a sample chapter and a well-thought-out proposal for the rest of the book to attract them.
Writing and publishing a book can quickly position you as an expert or authority in your niche, but there are a lot of elements that must come together to publish a book that will sell well and help propel you to the next level in your business. If you are serious about writing a book that will help you attract unlimited opportunities in your business, I suggest you seek the help of experts who can help you write, publish and market your book.
[sc name="Monica bio without link"]