Important Steps to Getting Your Book Published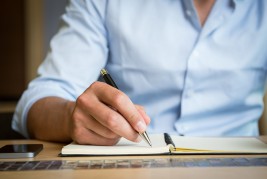 Are you working to become a published writer? If so, you may be wondering just what steps are needed to achieve your particular goal. Where getting published is concerned, there are plenty of steps to take, but some are much more critical than others.
The first step is to write your book. Proceed carefully if you're just starting. Don't presume that just any book will make the grade. Research to determine what genres are popular and what types of books publishers are looking for. Another mistake that is very common among new authors is concentrating on writing children's books. If you have the desire to write a children's book, go on and do it. However, do not fall into the trap of thinking that more money can be made with children's books just because they are shorter and easier to write.
If you have already written your book, or as soon as it is finished, there are steps that you will want to take before sending your finished manuscripts on to publishers. You will want to proofread your particular book, then proofread it one more time, and then read it yet again to be on the safe side. If you are not making use of the services of a professional editor, it may be a smart move to ask a tiny number of well-trusted friends and family members to look over your book for you, provide you with input, and take note of errors. For books that are lengthy, consider giving people that you know some chapters to look over.
An added step that you will want to take involves looking into literary agents. When writing adult books, you will discover that a great percentage of top publishers only deal with authors who work with professional literary agents. With that being said, you are under no obligation to use the services of a literary agent; however, doing so may result in more work for you. Even if you are not completely sure if a literary agent is right for you, think about looking into a few of them. Be sure to look at costs, client reviews and rates of success.
If you forego the use and services of a professional literary agent, you will have to locate and analyze book publishers on your own. Be cautious when sending out the manuscript. You will want to avoid mistakes that prove costly but are easy to avoid. That's why it's key to do research. Buy a guide to writing, such as "Writer's Market." You can also make use of the Internet to discover related information online, although this particular method can take up a great deal of time.
The reason researching publishers is important is that many have particular rules and restrictions. For example, do not waste precious time sending out your books to publishers who solely deal with literary agents if you do not have an agent. Pay very close attention to dates, as some publishers only accept manuscripts during certain months of the year. Can you do multiple submissions to different publishers? Some have set rules, restrictions or recommendations that discourage you from doing so.
Another critical component when you are searching for a way to get a book published is not to become discouraged. Publishers rarely accept a book on the first attempt, especially from unpublished authors. Don't lose hope. Try various publishing houses. If you receive 10 or more rejections, it may be time to go over your book. Are there any storyline changes or layout changes that can be tweaked to improve the chances of your book being published? If that's the case, do some experimenting.
When seeking to get a particular book published, the steps as mentioned above are only a few of the many that you will want to take and must take. These particular steps, however, are the steps that every author should take, as they are very likely to increase the chances of your book being published. Keep in mind, it is critical to undertake the right amount of research before you begin submitting your book.