How to Make Your Business Media-worthy (Newsworthy) – Ep #3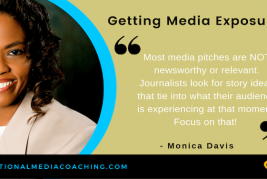 Do you know what topics are of interest to your audience and what makes your business newsworthy? Knowing this can make the difference between you being contacted for an interview tomorrow versus never getting a response from a journalist or reporter.
This segment provides tips on things to consider before you pitch the media.
Contact us to learn more about how you can make your business newsworthy and start getting massive exposure for your business while spending less money and time.