How to Get Publicity – Ep #2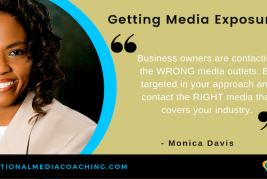 Are you getting the publicity you're seeking, or are most of your pitches getting ignored? If you're not being strategic in who you contact, you're missing the mark on getting great media opportunities.
There are thousands of business owners who have great stories to share. Yet, unfortunately, the way they're positioning their pitch and their information, leaves a lot to be desired. Their ideal clients are not hearing their story because they are not reaching the right media outlets.
Contact us to learn more about how you can easily start getting publicity for your business without spending thousands of dollars on a PR firm or publicist, and save time with a step-by-step roadmap to success.
Check out episode #3: How to Make Your Business Media-Worthy