9 Ways to Get Leads for Speaking Opportunities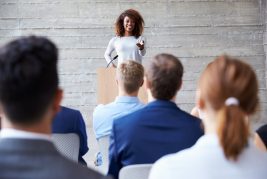 Finding good leads for speaking engagements can be a daunting task especially when you've never spoken in front of a crowd before.
Even if you have gotten a few gigs, it can be challenging to get hired on a consistent basis. Don't get discouraged.  Thousands of speakers are making a living from the stage and so can you.  There are multiple ways to find leads for paid speaking engagements.

9 Methods to Find Contacts, Get Booked and Fill Seats
Become a leading authority and expert in your niche. Generate awareness about your company and the problems you solve so that you can set yourself apart from your competition. People seek experts who are seen as trusted authorities.
Speak for free until you get a paid gig.  Free is good; especially when you have no experience or very little speaking experience.

Plus, you never know who is in the audience. There could be someone there who's looking to hire a person just like you for their upcoming event.

Put just as much effort into your free speaking events as you would a paid event.

Check with your local Lions Clubs, Chamber of Commerce or Rotary Club.  You can also create your own event and schedule a room at a local library. Then promote the event to your local community.

Attend conferences and other types of events that your ideal customer or client attends. This will take a little research but will be worth the effort. Create a list of people you want to connect with which should be decision-makers who can hire you for speaking opportunities.

Always be brief when introducing yourself and tailor your introduction in a way that addresses how you can meet their needs.

In order to tailor your introduction you first need to ask them what they do.

Meeting planners sometimes peruse speaker bureaus for speakers who focus on specific topics. Sign up for a reputable speaker's bureau.
Ask for referrals from existing clients who have hired you to speak.  Create a generous rewards program for clients or customers who refer people who invest in what you have to offer.

A general gift card, Starbucks card, flowers and most definitely a hand-written thank you note are all great options. You can also give cash.

Do you know where your prospects hang-out?  That's where you should be also. Whether it's an organization, a club, an online bulletin board, forum or group, etc., you should get on their radar screen so that you will be in front of them and they'll keep you top of mind.
One of the most effective ways to present yourself as a professional speaker is to have a speaker website. When meeting planners visit your website, they should have everything they need at their fingertips to help them make a decision to hire you.

Here's what you should have available on your website: a downloadable one-sheet, client testimonials, descriptions of your speaker programs, links to publicity you have received, results clients have achieved from hiring you, and a speaker video – this is a must.

Your speaker video will often be the final determination as to whether you get hired.  So, it's important that it's professionally presented and that your message is on target.  Ask a friend or colleague to tape your next presentation and include it on your speaker website. With a speaker video, the meeting planner can see and hear you which help them make an informed decision.

Publicity is the bomb. The more you are seen in the media, the more you increase your credibility and authority. The more decision makers see you and hear your message, the more they trust you as a source for meeting their needs.

Seek out relevant podcast and blog interviews. Pitch story ideas to your local news stations and online magazines.

Build relationships with your prospects — those who make the final decision to hire you. Connect with them on social media. Send them informative articles. Remain "front and center" so that when they are ready to hire, you are top of mind.
If you consistently put into practice the above nine methods, you should start filling seats in no time and start to see your speaking career go to the next level.
Hope you see on the big stage soon.
[sc name="Monica bio without link"]